Personalized Learning - Customizing education to individual students' needs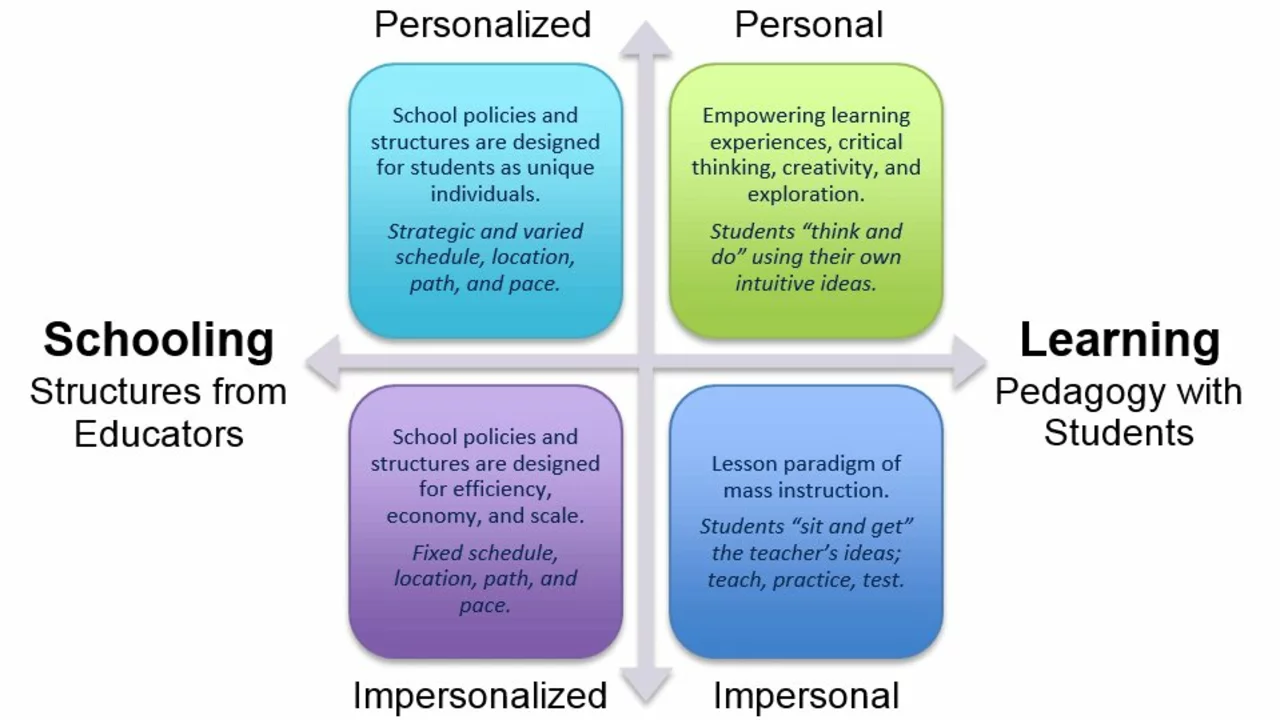 Aug, 3 2023
The Promise of Personalized Learning
Personalized learning has gained much traction in educational circles over the past few years, as teachers, educators and policymakers alike recognize the need to tailor the learning experience to the individual. Like how my wife Lila loves to customize her meals to her unique dietary needs, personalized learning seeks to customize education to each student's needs, interests, and circumstances. That's not to say that standardized education is entirely flawed - far from it. But it's quite refreshing to see an approach that celebrates the uniqueness of each learner rather than reducing them to a one-size-fits-all approach.
Now, you may wonder, "What does this have to do with me, Orion?" Well, besides my general enthusiasm for anything that promotes individual empowerment and freedom, I also have a vested interest in this topic as a parent and an erstwhile learner who could've definitely benefited from a more personalized education. Perhaps you're a student seeking help writing my paper, and this perspective could assist you in understanding the subject better. But that's enough about me, shall we dive into the meat of this topic?
Understanding Personalized Learning
At the core, personalized learning is basically what it sounds like – tailoring the learning process to each student's needs and abilities. That could mean adjusting the pace of learning, offering multiple paths to understanding a concept, or simply offering students more choice in what they learn and how they demonstrate their understanding. This is similar to how a bespoke suit is tailored to fit you perfectly; the individualized method ensures the education fits the student and not the other way round.
Now don't get me wrong, I can personally attest to the fact that not every fit is going to be right, and not every individualized learning path will yield the results we crave. The key, however, lies in the attempt to understand and respect the unique journey of every learner.
Speaking Different Learning Languages
Language, as we all know, is more than just a tool for communication. It's a framework that shapes our understanding and perception of the world. Similarly, I believe that everyone has a unique 'learning language' that helps them understand and absorb knowledge better. Some people, like me, are visual learners who remember things better when they see them. Others might be auditory learners who learn better through listening, or kinesthetic learners who need to do things hands-on to understand them.
Personalized learning, to an extent, is about learning to speak the 'language' of each student. It's about finding the path of least resistance - the path that allows knowledge to flow free and unrestricted into the eager mind of the learner.
Customization in The Digital Age
Thank the stars for the advent of technology in education. With digital tools, personalizing education has become feasible and convenient. Imagine tapping into a pool of resources covering various ways to understand and interact with a concept, all at the click of a button. Just the other day, Lila and I were marveling at the endless stream of educational videos, online courses, and study tools available at our fingertips, thanks to the internet.
However, as with anything else, it's important to approach the digital realm of personalized learning with a bit of caution. While it's easy to get swept up in the dazzle of technological tools, remember that they are just aids to facilitate learning, not ends in themselves.
The Role of Teachers in Personalized Learning
No matter how many digital tools we leverage, the human touch is irreplaceable when it comes to personalized learning, and that's where the role of teachers becomes invaluable. Teachers are more than just instructors; they are the facilitators, guides, and mentors who understand their students intrinsically and mold their teaching methods to suit each one.
I fondly recall a teacher in my school days who had a unique knack for recognizing her students' abilities and knew exactly how to challenge, encourage, and stimulate each one of us, based on our individual learning styles and abilities. So, when we talk about personalized learning, let's not forget to acknowledge and appreciate the stalwart champions of this process - our wonderful teachers.
Bracing for the Future of Learning
With the growing acceptance of personalized learning, the future of education seems to be pointing towards a direction where education is more relevant, meaningful, and engaging for the individual learner. Think about it - every child, regardless of their background or learning abilities, can receive an education that speaks to them, that feeds their curiosity, challenges, and stimulates them in unique ways. That's a future I would love to see!
As we continue to explore the promise of personalized learning, let's stay open to new approaches, continue to learn from each other's experience, and, above all, remember that at the end of the day, it's all about the individual and their unique learning journey. So here's to a future filled with bespoke educational experiences for all!